OR ECHAD (ONE LIGHT) and HOMESHUL were founded by husband and wife team Rabbi Ira Rosenfeld and Cantor Beth Wasserman Rosenfeld.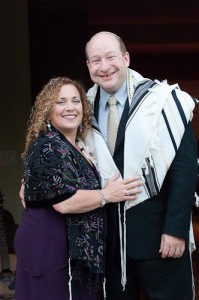 HOMESHUL, offering a quality education brought to your home, started with one small group and quickly expanded to groups meeting throughout Conejo, San Fernando, and Santa Clarita Valleys.  Classes incorporate art, performance, and music.  A sense of "frommunity" (friendship + community) is developed while Hebrew skills and Judaic knowledge are explored.
OR ECHAD started shortly after the inception of HOMESHUL.  OR ECHAD, a new alternative to the traditional synagogue, creates "frommunity," through services and activities for families, couples, and individuals.  Currently, there are monthly services and family celebrations, as well as field trips, and High Holiday Services offered by OR ECHAD, and new programs and events are continually being formulated.
What really makes OR ECHAD and HOMESHUL so unique and special, is Rabbi Ira and Cantor Beth.  They teach all of the HOMESHUL classes, and they bring their positive, joyous, musical, and inclusive, approachable presence (click 'About' prompt) to every OR ECHAD service and event.
In addition, Rabbi Ira and Cantor Beth are available for life-cycle events, services, and celebrations, including: Baby Namings, Bar and Bat Mitzvah, and Weddings.  They are also available for Consultations, Counseling, and Conversions, as well as Illness, End of Life issues, and Funerals.
Please don't hesitate to contact Rabbi Ira or Cantor Beth about OR ECHAD, HOMESHUL, or if there is anything you would like to discuss.
High Holy Day Services 2017
Adult Ticket 2017 $175
Youth(under 13) Ticket 2017 $85
SHOPPING CART